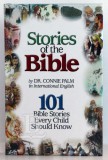 Stories of the Bible
101 dobrodružných príbehov zo Starej aj Novej zmluvy, ktoré by deti mali poznať. Knižka plná ilustrácií je napísaná jednoduchou angličtinou. Obsahuje aj krátky slovník, v ktorom sú vysvetlené niektoré ťažšie slová, pre deti náročné na poroz...
In stock
See more...
Is God Really My Father?
Knižka pre deti je ilustrovaná a písaná jednoduchou angličtinou prispôsobenou deťom. Odpovedá na dôležitú otázku o zmysle života a prostredníctvom príbehov o nebi, hriechu, anjeloch či o Ježišovom živote hovorí o základných pravdách v Bibli...
In stock
See more...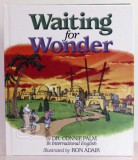 Waiting for Wonder
Autor rozpráva príbeh Biblie veľmi jednoduchým spôsobom prijateľným pre deti. Knižka začína prosbou vnučky, aby jej stará mama porozprávala príbeh. Stará mama jej počas trinástich dní rozpovie príbeh o Božom pláne pre tento svet, o jeho záz...
In stock
See more...